May 27, 2021
Daikin's controlled atmosphere (CA) container technology ships Taiwanese custard apples to Middle East for first time
Daikin Active controlled atmosphere (CA) refrigerated container technology selected by Yang Ming Marine Transport Corporation for first ever shipment of Taiwanese custard apples to Dubai by leading exporter Fruit Days International Co.
OSAKA 27 May 2021 – Yang Ming Line and leading fruit exporter Fruit Days International Co. have selected Daikin's Active controlled atmosphere (CA) container technology for the first ever container shipment of Taiwanese custard apples to Dubai in the Middle East. Daikin Reefer is a leading supplier of refrigeration and climate control solutions for freight containers. Headquartered in Japan, Daikin Reefer is a business unit of the refrigeration division of global refrigeration, air conditioning and climate control provider Daikin Industries Ltd.
The containerload carrying 10 tons of custard apples was shipped by Yang Ming Line and left Kaohsiung port in Taiwan on 1 Feb 2021 and arrived in Dubai on 19 Feb 2021, a total transit time of 18 days.
The majority of Taiwan's fresh produce exports, including Taiwanese custard apples, are bound for Asian countries. This delicate fruit can often have a limited shelf life even after short ocean shipment journeys, due to its tendency to spoil easily or ripen quickly.
However increased demand for Asian fruit globally together with changes to market conditions in Asia mean Taiwan now has the opportunity to reach new and distant markets with its renowned custard apples as well as other fresh produce. To successfully ship over long distances, the custard apple must be kept in optimum conditions during transit so that it arrives in a 'just-picked' state, ready for onwards distribution to supermarkets and then to consumers. Finding ways in which to ship this fruit under the correct atmospheric conditions has traditionally been a problem that has frustrated Taiwanese growers and international shippers.
Popular with the health conscious, the custard apple has a low GI (Glycemic index) and is naturally sweet with a distinct flavour of custard. An excellent source of vitamins C and B6, it is also rich in potassium. The Middle East has excellent growth rates in the consumption of perishables, and this region relies heavily on food imports due to low local food production. There has also been a rise in the number of high-end restaurants and supermarkets with consumers keen to try new and exotic perishables.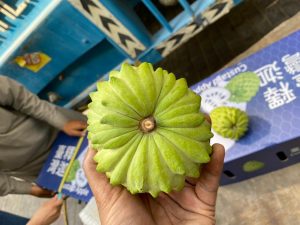 The custard apple varies in size, colour and shape and can bruise easily as well as ripen very quickly. Exporters and shippers face challenges when transporting it over longer distances because of the speed at which the fruit can spoil and discolour when transported in normal reefers that rely on natural respiration.
Yang Ming Line's shipment supported by Daikin's Active CA meant the custard apples arrived in Dubai after 18 days at sea in optimum condition ready for onwards distribution to leading high-end supermarkets in Dubai. Even after a total 18 days in transit the custard apples still had a shelf life of 8 days in Dubai, thanks to the precise atmospheric conditions provided by Daikin's Active CA.
The Daikin Active CA system is unique in that it reduces oxygen and manages carbon dioxide levels, as well as boosting nitrogen levels to quickly put fresh produce into a state of hibernation inside the reefer. This helps to maintain the quality of the fruit and extend both the shelf life (i.e. the selling days on shelf in stores) and the overall storage life of a wide range of fresh produce, even on the longest of journeys. The custard apples are effectively 'put to sleep' on their journey so their freshness is maintained and Taiwanese and other Asian exporters can now rely upon Daikin's Active CA technology to help them grow their market footprint and reach new international markets.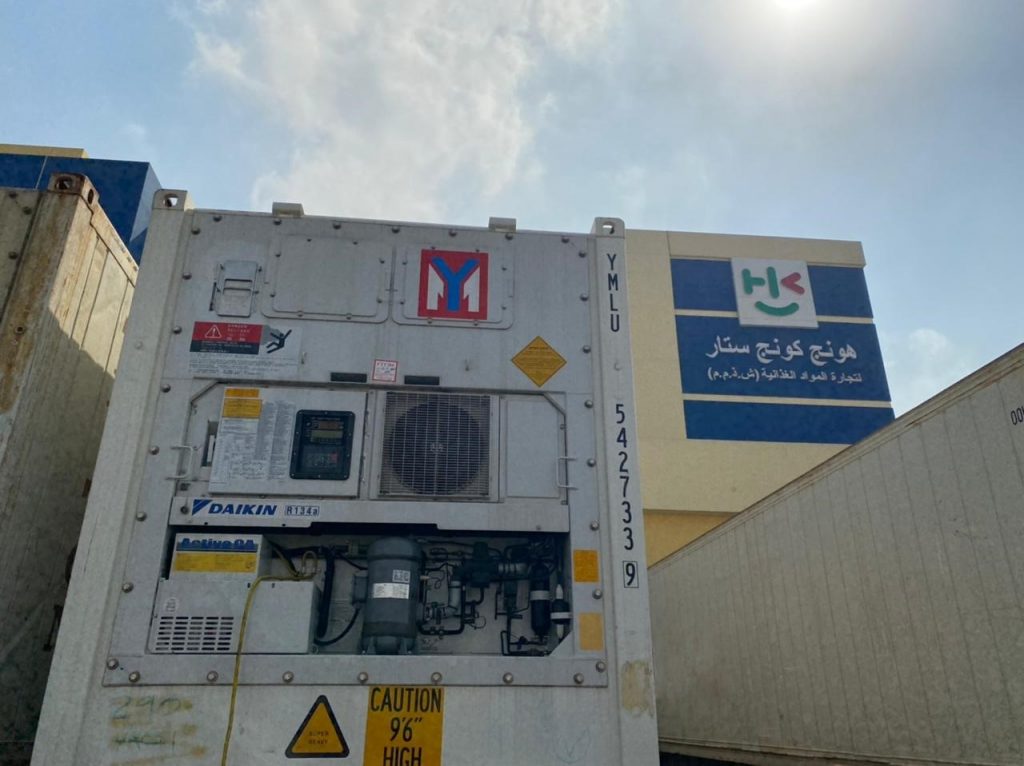 As well as custard apples, other perishable cargoes with low respiration rates can be transported with Daikin's CA technology as it delivers optimum conditions – unlike when more passive systems are used.
"Shipping Taiwanese custard apples to Dubai for the first time is an exciting development, opening up Jebel Ali Port and the country of Dubai as new import destinations, thanks to Daikin's Active CA. We are excited that we can now open up new distant markets beyond the traditional near market destination of Taiwanese custard apples with Daikin's leading Active CA technology" said Alex Huang of Fruit Days International Co.

"Since our research project on long-distance transportation of custard apples in 2019 we are delighted that custard apples are now being shipped out of Taiwan to the Middle East to be enjoyed by consumers there. Earlier this year our CA technology also supported a shipment of custard apples from Taiwan to Vancouver. Both these shipments clearly demonstrate that our Active CA technology is paving the way for Asian exporters to find new markets and for shippers to extend their cargo ranges by safeguarding the freshness of valuable perishable produce" said Mr Ah Huat Goh, General Manger, Global Marketing & Service, Reefer Department at
Daikin Reefer.
Ends

Notes to Editors

For further information on this media release, please contact:

Mr Goh Ah Huat, General Manager, Global Marketing & Service
ahhuat.goh@grp.daikin.co.jp

Daikin Reefer Media Representation:

Esther White, Director Marketing & Communications
(Next Level Information Ltd. on behalf of Daikin Reefer)
esther@nextlevelinfo.com
---
Back to News top