February 22, 2018
Avanza Successfully Trials DAIKIN'S Active CA For Avocados
New Zealand-based avocado grower trialled proof of concept shipment between Tauranga and Busan
OSAKA, 20 February 2018: AVANZA, a leading supplier of premium Hass avocados, has completed a successful trial with Daikin Reefer, a leading global supplier of container refrigeration equipment. Using Daikin's Active Controlled Atmosphere (CA) technology, AVANZA trialled a proof of concept shipment of 6,500kg avocados between the ports of Tauranga, New Zealand, and Busan, Korea. The positive outcome now sees Daikin's Active CA in pole position for transportation of next season's avocados.
The trial took place in December, towards the end of the New Zealand avocado season, which runs from September to January. As global awareness of the health benefits of avocados increases, so too does demand. By slowing down the ageing process that food and other sensitive, perishable products undergo during transit, CA allows them to be transported in better condition for longer periods of time, extending shelf life.
Colin Partridge, technical manager and representative of AVANZA, explained: "Controlled atmosphere reefer technology is essential to our business as avocados are a high respiring cargo and need precise optimal atmosphere levels throughout transit to safeguard quality over long distances. As the only active, rather than passive system in the market, we wanted to trial Daikin's Active CA technology to see if the benefits of an active system are genuine. We're delighted with the results and are now discussing the use of Daikin's system for next season's shipments."
Adapted from Daikin's oxygen concentrator, which was developed for use in the medical industry, Daikin's new Active CA technology is the only active – rather than passive – technology on the market. It is based on vacuum pressure swing adsorption (VPSA), an active atmosphere separation technology that can create the optimal controlled atmosphere very quickly. VPSA uses the mineral adsorbent zeolite to capture a large quantity of nitrogen from the air and transfer it into the reefer container, allowing oxygen levels to be quickly reduced, without the need for additional nitrogen gas injection.
Unlike passive CA, which relies on produce respiration, Daikin's Active CA delivers nitrogen rich gas to the reefer container with inbuilt equipment, reducing oxygen density rapidly. This puts the fresh produce to "sleep" in a matter of a day or so, leading to longer shelf-life at the destination. In addition, produce loses its water content from respiring. Active CA's ability to put the produce to sleep quickly minimises loss of water content. With produce such as avocados, this can be done in less than half the time when compared to passive systems.
Mr Ah Huat Goh, general manager, global marketing and service, Reefer Container Department, commented: "Daikin's Active CA represents a new and innovative approach to cargo care, which is providing both shippers and shipping lines an opportunity to provide new services and added value to their customers. For produce such as avocados and apples, food scientists and growers alike understand the benefits of consistently low oxygen and low carbon dioxide settings during transit. Thanks to the positive inside pressure created by the nitrogen gas injection, which prevents the ambient air from entering the container, Daikin's Active CA system can reliably maintain low O2 and CO2 levels. With Passive CA, the pressure inside the container is negative which makes it is easier for oxygen to ingress, especially as the box ages, potentially causing damage to cargo."
For the AVANZA trial, Daikin's engineering team installed an Active CA "kit" onto a 20ft ZeSTIA unit which had been CA provisioned. The ability to retrofit Active CA onto CA-provisioned units ensures that upgrading containers is quickly achievable.
As global populations and average salaries grow, the reefer segment continues to expand. New advances in CA technology are enabling the carriage of new cargoes on diversified routes. Daikin's Active CA is not only suitable for high respiring produce, but also low respiring leafy vegetables and fruit such as grapes and berries that have been traditionally difficult to ship over long distances.
-ends-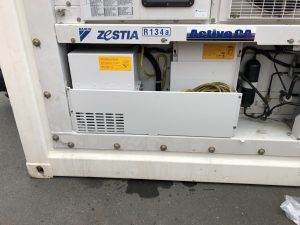 About AVANZA
New Zealand's Asia market specialist, AVANZA is trusted by buyers in Asia to supply great tasting premium quality avocados for up to 5 months of the year. It's this limited 'in-season availability of New Zealand fruit, combined with its creamy taste and nutritional benefits, that give AVANZA fruit its point of difference and appeal.
About Daikin
Headquartered in Japan, Daikin Transportation and Refrigeration Systems Division (Daikin Reefer) is a wholly-owned division of Daikin Industries Ltd, providing refrigeration equipment to the global container industry. Grounded in more than 90 years' experience, Daikin Reefer combines world-leading Japanese technology that delivers assured reliability, performance, and efficiency.
---
Back to News top