February 21, 2016
Daikin Reefer launches new Active CA device for refrigerated containers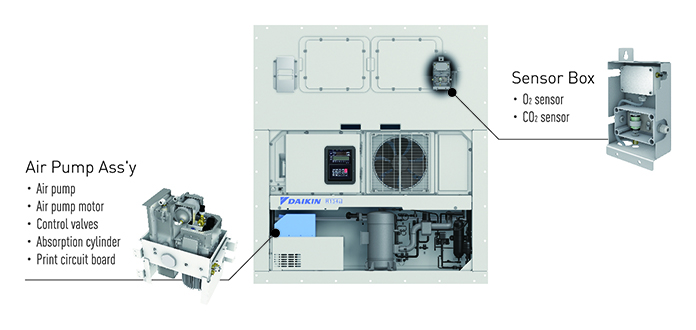 New technology allows controlled atmospheres to be quickly created inside reefer containers, extending the storage time of fresh produce and allowing a wider range of perishable cargoes to be carried
03.24.2015 – Daikin Reefer, global supplier of container refrigeration machinery, has launched its new Active CA device, a fast-working, simple and highly reliable unit that creates a controlled atmosphere (CA) inside refrigerated containers transporting perishable goods. CA slows down the aging process that food and other sensitive perishable products undergo during transit, allowing them to be transported in better condition for longer periods of time and extending shelf life.
The Daikin Active CA system is based on vacuum pressure swing adsorption (VPSA), an active atmosphere separation technology that is able to create the optimal controlled atmosphere very quickly. VPSA uses the mineral adsorbent zeolite to capture a large quantity of nitrogen from the air and transfer it into the reefer container, allowing oxygen levels to be quickly reduced by dilution, without the need for additional gas.
During transit, the Active CA system continuously controls the air composition, inside a reefer container. Daikin's new technology uses cargo respiration to maintain the container's carbon dioxide level, alongside an automatic ventilation control, making the unit simple and economical to run.
Proven technology has been used throughout to ensure a high level of reliability. The design of the unit's oxygen-conserving LiteTEC-5X component was adapted from Daikin's oxygen concentrator, developed for use in the medical industry, which requires very high levels of reliability from all equipment. The Active CA system has also been designed to be as compact as possible, and for ease and speed of installation on refrigerated container units.
Daikin has already supplied an international shipping line with 50 of the new Active CA machines. The units will be fitted on the customer's reefer containers from the end of February 2015.
The new Active CA unit will be on display at the upcoming Intermodal Asia show in Shanghai, March 24-26.
ENDS
---
Back to News top